Students who spent one semester at NBS tell about their experiences in Hamburg and at the university:
Beatrice Danese, Mantua (Italy)
Beatrice Danese is a student from Mantua, Italy, who studied a semester at NBS. Here she tells us about living and studying in Hamburg and at NBS:
My Erasmus experience in Hamburg
"Under all circumstances, I recommend my stay in Hamburg and at the NBS: This semester abroad was really a valuable experience; I am very thankful because my time as an Erasmus student was really wonderful and challenging and will always be a piece of my heart."
My name is Beatrice and I am currently studying at SSML Unicollege University in Mantua, Italy. Even before I started my bachelor, I intended to study abroad for a semester and spend a few months studying at a foreign university to gain new experience and improve my foreign language skills and general knowledge. I really wanted to discover the world, get to know a new culture, explore a new country, make friends and, in short, experience something new that could be important for my personal development, and the Erasmus program was totally suitable for me, since it really offers the wonderful possibility to do exactly what I wished for. Last year, therefore, I made the decision to spend a semester in Germany. I wanted to have an amazing Erasmus experience in a beautiful city and Hamburg was the best choice for me: an international city where you can really experience many different things.
Hamburg was the best option for me because it also gave me the opportunity to continue my semester studies with courses at the Northern Business School (NBS) and to choose a timetable that suited my interests and needs. The lectures offered were very interesting both personally and professionally and could help enrich my curriculum vitae and expand and improve my skills and abilities.
Right from the beginning, I knew for a fact that this decision meant a step out of my comfort zone, but I really wanted to put myself to the test. And that's how I did it. At the beginning I was very worried and afraid of having to organize everything on my own, but then I did not have a problem and during my stay many people helped me to have everything under control, especially my university tutor, who was essential for my experience and who always solved my problems and answered my numerous questions promptly and efficiently.
This semester abroad was so amazing for me; I lived and loved Germany, and especially Hamburg, and explored it from different perspectives. Hamburg has a lot to offer, especially for foreigners and Erasmus students: There is always a lot to discover or try out here. It is a student city with tourists and people from all over the world, which I really like. There is always something to do for students, and I think it is a great advantage to have the opportunity to have the Erasmus experience in such an international and vibrant city.
As far as the NBS is concerned, right from the start I could count on the Erasmus coordinators of the International Office of the NBS, who are responsible and essential to the foreign students and to whom I have always been able to turn. The International Office helped me a lot in finding accommodation and planning my stay abroad and also gave me lots of advice. The NBS staff members have always been very nice and helpful.
The choice of courses was simple and practical: At the NBS, Erasmus students can in fact take part in many different lectures and create their own semester schedule in the best possible way and plan everything in advance: totally uncomplicated.
In the first week of the semester, the university offers its new students an Orientation Week. It consists of two or three helpful days, where you can find out about the course of the semester and many relevant things as well as participate in some welcome events to meet other students. As an international student, I participated in these orientation events in the first days of the semester, and some were very interesting and useful to me. They helped me to understand how the education system works here and what I should consider for my semester abroad.
In the beginning I had some difficulties understanding everything, especially because I do not speak German so fluently, but then everything went better immediately and I quickly understood how everything works here. Therefore, the first weeks at the NBS were not so complicated.
The tutors of my classes were very nice, helpful, patient and understanding, even though I do not speak perfect German, and they were always there for me when I needed help with assignments or exams. That helped a lot and I liked it.
The courses were always interesting and stimulating; I learned a lot of new things and discovered a different way of teaching. I liked dealing with class activities and group work. In general, I was just a little disappointed that the number of participants was not always high. In fact, many students do not attend the lectures and for that reason I was not able to get to know so many fellow students. However, it was not a huge problem for me, because I had the opportunity to meet some students who were very nice and friendly to me anyway.
Perhaps I would only recommend to NBS that there be more activities for international students to offer the Erasmus students, e.g. activities in the free time, and also to encourage all students to engage with the world of overseas stays; this could in fact sensitize the students to this topic and help them to get more involved in the experiences that foreign fellow students make here in Hamburg, as well as to opt for a stay abroad.
Under all circumstances, I recommend my stay in Hamburg and at the NBS: This semester abroad was really a valuable experience; I am very thankful because my time as an Erasmus student was really wonderful and challenging and will always be a piece of my heart.
Please note: Beatrice is an international student who speaks English and German, so she was able to visit courses in German as well. If you don't speak any German, that's not a problem: You can come to NBS and only visit our English courses.
Mariana Cunha, Lisbon (Portugal)
Mariana Cunha is a student from Lisbon, Portugal, who spent one semester at NBS in Hamburg. Read more about her experience here:
My Erasmus experience in Hamburg
"This time in Hamburg made me realize that my experiences abroad are not over and this was only the very beginning!"
I'm Mariana and I'm from Lisbon, Portugal. I attended NBS for the winter semester of 2018/2019, under the Erasmus+ study program. This opportunity of going abroad was such a challenge, not only for my academic path, but for my own personal development as well. I never had an over-seas experience, whether studying or working, but I always wanted to get out of my comfort zone and I knew this could be the right moment!
I applied for this program with a fellow student from my class and Hamburg wasn't our first option, but the second, right after Czech Republic. And the reason for the choice of this city was firstly because our home institution had a partnership with this University and secondly because it is in Germany, a well-known country for its efficient processes in regards of management, the course of our studies. Also, the fact of Hamburg being a very multicultural city made me think it would be a place where people could be more open-minded and easly welcome all those differences associated with a foreign culture, as I had the chance to confirm after a few days of my arrival.
As in everything, it had good aspects and the not so good ones. Personally, I loved the city. The harbor, the Speicherstadt and the Planten un Blomen were my favorite places, where I always took the people who went to visit me during my stay. I must confess that the life standard is a little bit higher compared to Lisbon, especially in terms of housing where you must search very well in advance for a cheaper place to stay. Also, I think I never experienced as freezing temperatures as in Hamburg. I was already aware of what I could face, but to actually feel it on my skin was another thing. From a country where it rains a couple of weeks during the whole year and where the temperatures never hit the negative numbers, it was challenging sometimes, but nice as well, because I had the chance to wear those fancy scarfs, gloves and caps I never use back in Portugal!
In addition, I think there could have been more Erasmus students at NBS, since the only ones were me and my friend. We felt the need to connect with other people in the same situation as we were, in terms of this whole experience being new and the things that come attached to that. But I have to say that the university is making efforts in that respect, with the example of the "Buddy" we were introduced to that showed us that not all Germans are "dead serious" and "freezing cold" as they are commonly stereotyped. Also, as Hamburg being a city full of life, we had the chance to know people from some activities we took. So, my advice here would be to search for city activities to do, join to all Erasmus groups and pages on Facebook, for example, where you can have the chance to know a lot of people in the same situation as you are.
Lastly, Germany is a very central country in Europe, therefore traveling can be easier and cheaper than in other places in Europe. With the Erasmus (ESN) card we had discounts on flixbus, so we traveled to some places for nice prices.
I have to highlight the fact the international coordinator of NBS, Dr. Rüdiger von Dehn, was extremely supportive and always made the possible and the impossible to help us with everything we needed and gave us some good advices of places to visit. On the overall, the lectures and fellow students were friendly and supportive from the beginning. I'm glad I had this opportunity which was life changing. I felt I grew a lot from this experience, from the first time living alone and having to overcome all the possible issues I could face, until the steps I'm willing to take from now on with my academic development. This time in Hamburg made me realize that my experiences abroad are not over and this was only the very beginning!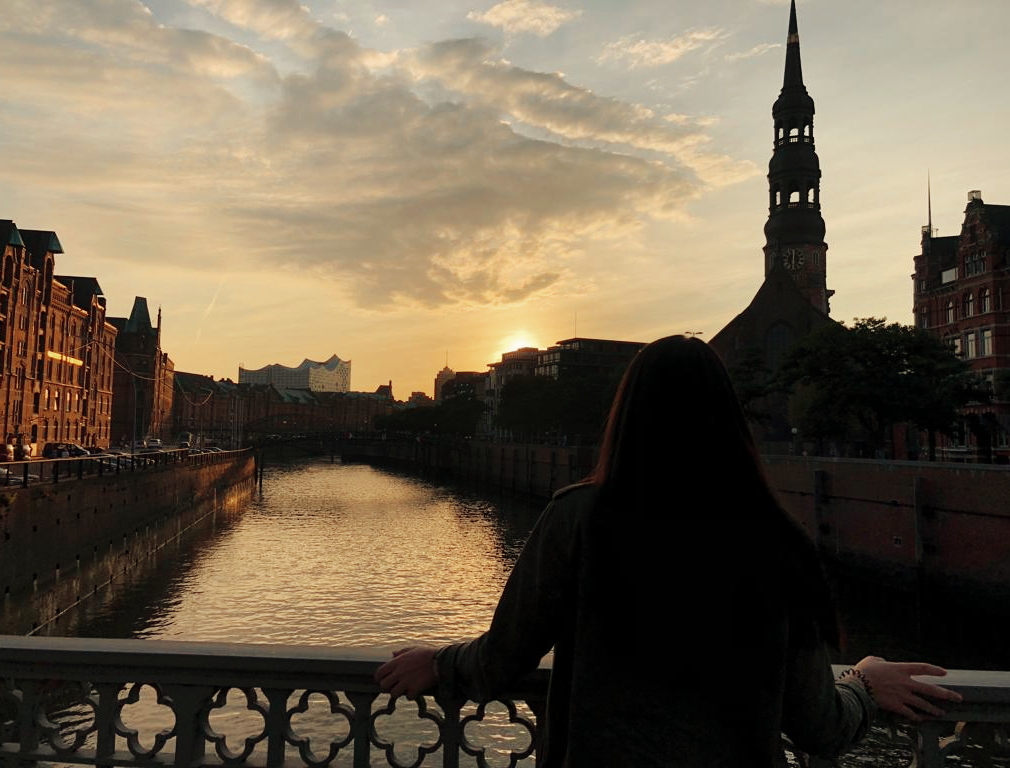 Andrea Santos, Barcelona (Spain)
Andrea Santos is a Spanish student from Barcelona who studied a semester at NBS. Learn more about her experience in Hamburg and at NBS:
My Erasmus experience in Hamburg
"I never thought that an international experience would change me that much."
My name is Andrea and I come from Barcelona. When first I heard about the Erasmus Plus Program I got so interested. A Program which enables international mobility to university students? That was made for me! And on my 4th year of my bachelor's degree I had the opportunity to do a semester in Hamburg, Germany. It wasn't my first experience abroad though. In the past, I've lived in Montpellier and did my internship in Evian-les-Bains, both locations in France. Those experiences allowed me to discover a new country and to improve the language. Therefore, I though that it could be a good idea to do the same in Germany. However, there was something that I hate from that city… or maybe I should say from the country in general. I'm not going to lie, as a Barcelona citizen I'm used to winters which have no lower temperature than 0º or -5º maximum. As you could imagine, even already prepared for it, some days were a nightmare! But every single place has their pros and their cons, right?
A huge "pro" were all the people that I met there. My group of friends were people from Egypt, France, Israel, Turkey, United Kingdom, Colombia, Germany, Italy, Denmark and United States, and none of us were from the same country. They call us the international group wherever we were going. The funny thing is that, even though we all had different languages as mother tongues it was no barrier for our friendship. I actually see this group as a reflection of the city: There're people from everywhere in Hamburg, it's a big and cosmopolitan city, and the great thing (and I talk about my experience) is that nobody is going to treat you differently for that. On the other way, they will have curiosity for your culture and some of them will try to say something in your language.
My advice for anyone who is doing their Erasmus in this gorgeous city is that, even though there's always something to do in Hamburg, it's also really easy to travel around in a very cheap way. Besides, if it's your first experience in this country, you will see the contrast of a flat city as Hamburg to others like Munich with their mountains. Do not be afraid to join every single group in Facebook about international students, or I would recommend you search if there are people from your own country living in the city that you are staying. It's always helpful to be around a community that may have had the same problems as you are.
Finally, I would like to encourage anyone who is thinking about it to do a semester or a year abroad. And I would like to emphasize how wonderful it was to do my Erasmus in Hamburg and to attend my classes at NBS. I really could feel how the lecturers or the coordinator were there for me. In fact, I asked them tons of advices or even talked about my future after my bachelor and they were always trying to help me as much as they could. Therefore, if there's anyone wiling to do an experience abroad to Hamburg or to Barcelona, do not hesitate to ask my contact to the international coordinator. I'll be happy to help you as much as I can! And remember: If you decide to go abroad, it will change your life for good. No jokes here.