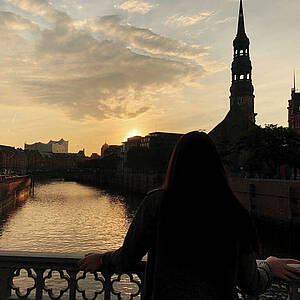 "This time in Hamburg made me realize that my experiences abroad are not over and this was only the very beginning!"
Mariana Cunha, Erasmus student from Lisbon, spent one semester at NBS in Hamburg. Read more about her experience here.
In the beginning, everything is new and maybe even confusing: Where do the lectures take place? When are the exams? And how can I log into the Wi-Fi? All those questions are answered during the orientation day at the start of your studies at NBS. You will meet the members of the International Office as well as other international students and the German buddies.
If you are an international student studying at NBS, we will welcome you with a shirt from our own college wear and ask you to take a picture of you at one of your favorite places in Hamburg wearing it. Please go see a member of the International Office if you just arrived!
You can of course also buy other pieces from the college wear in the online shop: https://shop.spreadshirt.de/nbshochschule/ (only in German).
All products are sold without commission; the NBS does not make a profit by selling the college wear.